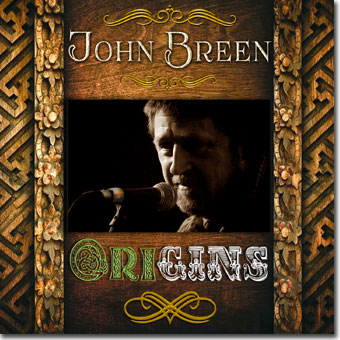 "ORIGINS" :: Album Reviews

Excitement was in the air when I heard that Irish crooner John Breen was putting up a new album called Origins, last year. I know his music. There is consistency that marks his previous albums. There is certainty in his vision resulting in an album that's solid and artfully crafted. There is no fumbling around with other styles. Instead, he goes for the things he know by heart, and good at. If you pick up any John Breen album, you always feel that sense of coming home, not just in a geographical but in a spiritual sense as well. Maturity marks his new album. I admire his humility, in a sense that he is aware of being a vessel to something bigger himself. I Still Believe is his current single. It is a stirring ballad with a beautiful mandolin solo in a mesh of other instruments. "There will be moments of fall from grace…" His ability to capture the essence of life in a line or two, is powerful. Great musicians backed this recording. It's a cornucopia of instrumental richness supporting his beautiful voice.

I think what makes him stand out from other singer/songwriters of his time is the truth in his songs. He really lives what he sings about. He now works with people who are undergoing challenging behaviors and I think that has deepened his sense of humility and sympathy to the human condition. And we all need that in this time of apathy. When people spend more time with their mobile phones, computers or tweets, it's refreshing to just curl up in your bed and listen to songs that remind you of what it's like when you're a child and everything's safe and beautiful.

Origins is a good vocal album. The jolly Amber Tresses opens then album in which he shines in his mastery of traditional styles. Meant to Be slows us down a bit with its introspective mood and beautiful tin whistle solo. Cup of Sorrow is another lively track which gives way to the gentle and flowing I Still Believe which I mentioned earlier. I'll Be No Stranger is another salvo of Bluegrass fireworks with amazing duet between Breen and Stevie Hawkins. Instrumentalist Tim Crouch showcases his virtuosity in most of the tracks in Origins. I admire the angelic voice of Kyla Cassidy as she provides backing vocals in various tracks,while the rest of musicians are all remarkable in their artistry in the finest degree.

Angel In The Air is a lullaby that reminds me of what mothers sang to their children in the old days to send them to sleep. I Loved You Better Than You Know is a love song with another sweep of instrumental beauty. A lament I'LL Remember You Love In My Prayers mirrors the gentleness of Meant To Be and I Still Believe. Briscoe's Darlin' in an instrumental that bumps the pace a bit in a traditional style. The thread extends to What I Said Ain't What You Thought I Mean which is humorous! Been proves that he can be funny. I Only Wish You Well closes the album. A very fitting track which summarizes the overall atmosphere of Origins. There is wisdom that comes in every journey. I think after creating three albums, the artist has an overall idea what his purpose is.

I think we are fortunate to have an artist like John Breen in this lifetime. The honesty of his songs cuts to the core of our souls. I feel purified after the last track. Origins is a must-have album for humanity.

- Baxter Labatos - The Celtic Music Fan


---

I have been lucky enough to have known and listened to the sensational work presented by John Breen for several years now. With true Irish tradition in sound, John has brought to me many hours of enjoyment while listening to his tracks.

When first hearing that his 3rd Album would be Country, I was surprised and wondered why he would choose this genre.

The answer was soon clear and without hesitation I applaud and commend John and all involved.

Having listened to his latest Album written by Charlotte Hannon, Stevie Hawkins & Tim Crouch, I now fully understand and found myself being taken back in time.

Superb in conception, in all ways, how clever it was to produce "Origins" aptly named for the journey it takes us on. I could not single out one track on this Album, as all in their own right entertained with fabulous lyrics and the magnificent traditional pure Irish vocals of John Breen I found so appealing and convincing in Nature with what "Origins" Album hopes to achieve, present and represent in the History of Music.

Not only are we entertained so brilliantly, along the way we are also taken on a trip back in time, which I found so rewarding and bringing to me knowledge regarding Blue Grass Music, traditional Country Music, Southern Gospel and Contemporary Country Folk which we are all familiar with.

From Wicklow Mountains to the Appalachians and back home to original roots, this trip back in time brought imaginary dreams, a history lesson and melodic pleasure from this amazing produced and mixed Album.

Congratulations to you all. Magnificent in every aspect from Vocals to Music Composition, Lyrics & Production. The perfect trip back in time.

- Demelia Denton - Radio Universal, UK


---

You have some good material here, the songs have strong content. The vocal and music is very well presented and the production is the work of a seasoned producer.

- Dr. Gerald Murray • Gerald Murray Music • Manager Doug Stone / Ashton Shepherd

"Origins" :: The New Album by John Breen
The Celtic exodus to America led Irish settlers into the Appalachian Mountains, their music enveloped into an ever evolving kind of music.
On his new 11 song album, John Breen's vocal mastery shines as he explores a melodic path combining Celtic music with Bluegrass music, Old-Time Country music, Southern Gospel music, Contemporary Country, and Folk. The album is solid, artfully crafted, and traverses the journey of the origins of Celtic music and its evolution in America by the Irish settlers in the Appalachian Mountains. Singing his way from the Wicklow Mountains to the Appalachian Mountains, and bringing it all back home again, John Breen puts his heart and soul into every song on this album.
The album is produced, mixed, and engineered by music industry veteran Stevie Hawkins. His country music credits include national and international recording artists, Daryle Singletary, Jeff Carson, Doug Stone, Jim Ed Brown, Glen Campbell, Tanya Tucker, among others.
The album includes also the talents of Tim Crouch, whose credits include, Dolly Parton, George Jones, Vince Gill, performing fiddle on country music star Alan Jackson's 2013 "The Bluegrass Album", and bluegrass music star Rhonda Vincent's Grammy nominated and #1 Billboard 2014 album "Only Me", among many others. Known as one the finest fiddler players in the United States, Tim's skills as a multi-instrumentalist are legendary. Tim is also co-engineer of "Origins".
Emphasis EMCD-010 • Street Date February 23, 2015
Buy The CD
$9.99

Buy Album Download
$7.99

Listen To Song Samples In The John Breen Store